HeARTfully Yours: an exhibition of valentine art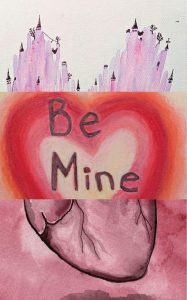 Grange Hall Cultural Center presents
"HeARTfully Yours:" an exhibition of Valentines art
Thursday January 30thfrom 5-7pm. 
Open to all to meet the artists on display!
Artists will be taking custom orders for valentines cards, poems, and gifts, as well as the ready-made cards and artwork on display.
HeARTfully Yours

is open January 30-March 1, 2020.
The exhibition will be open for viewing during public events, by chance, and always welcomed by appointment.
The Grange Hall Cultural Center presents HeARTfully Yours, a group exhibition of valentines artwork, with an opening reception Thursday, January 30thfrom 5-7pm in the Downstairs Gallery at 317 Howard Avenue, Waterbury Center, Vermont. 
In this celebration of the complexities of what we call love, this exhibit encourages the viewer to reflect on what and who they hold dear this February 14thand express it in a way as unique as their experience.  At the opening reception on Jan 30, artists will be available to take commissions for custom valentines gifts and cards, in addition to the work on display.
Featuring artwork from Jenni B, Monica Callan, Madeline Clark, Geof Hewitt, David Klein, Nicole Knowlton, Joanne Lattrell, Dawn Littlepage, Emma McCallum, Jerry Rayla, and Joy Spontak.
For information: please contact grangehallcc@gmail.com or 802-244-4168.