Santa Land Diaries, by David Sedaris

Produced by Aplomb Consulting LLC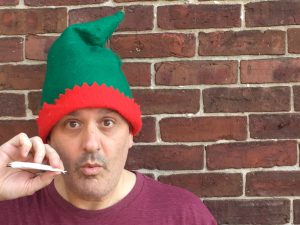 Santa Land Diaries
Adopted by Joe Mantello for the stage from David Seders' Santa Land Diaries
Starring Jason Lorber, Directed by Margo Whitcomb
Saturday, December 14 @ 7:30pm
Sunday, December 15 @ 2pm
The show exposes the underbelly of life working as an elf at Macy's Santaland, based on Sedaris' first-hand experience. A favorite of National Public Radio (NPR) and a frequent performer in Vermont, Sedaris had his "SantaLand Diaries" essay turned into a play by Joe Mantello, which has since been featured in cities across America as an annual event since 1996.
"Nope, it's definitely not a traditional Christmas tale," said Lorber, a comedian, actor, and former Vermont Legislator. "But if you want to laugh your stockings off the fireplace, and enjoy classic, satirical wit, then come."
 "Bring your entire dysfunctional family," said Margo Whitcomb, the director, "Although probably not your kids. No, definitely don't bring kids."
$20 pre-buy @ sevendaystickets.com
$23 at the door
Joining Whitcomb and Lorber are the creative team of Shelburne, VT costumer Lesly Finlayson, and NY-based sound engineer Zak Kline.