Vermont Playwrights Circle presents: Fantasy Fest, a TenFest Halloween Extravaganza
The Vermont Playwrights Circle presents:
2019 FantasyFest 
A TenFest Halloween Extravaganza
November 8 & 9 @ 7:30
November 10 @ 2pm
The 2019 FantasyFest, a festival of ten, ten-minute plays by ten Vermont playwrights, with the 2019 theme: "plays of the fantastic," Vermont Playwright Circle brings their annual festival to the Grange Hall Cultural Center for its 12th year of production.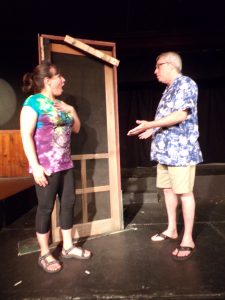 Plays and authors are as follows:
Easy on the Coffee by Bette Carlson Siler
Hamlet, the Lost Final Scene by Andrew Barnaby
Home Sweet Home by Dvora Zipkin
Something Like by Susan Bauchner
Not with a Bang by Jeffrey Casey
The Suppliants by Jeanne Beckwith
Tech Shift by Henry Sherran
The Sunset Gals by Colleen Curran
George's Radio by Jack Rushton
Genie in a Teapot by Patrick Cornacchio
All curtains are 7:30 except on Sundays, which are matinees at 2:00 pm.
‪Tickets are $12 general admission and $10 seniors/students–Cash or check at the door.
To reserve tickets at the Grange Hall Cultural Center, call 802-244-4168 or email grangehallcc@gmail.com
Night performances on 11/8 & 11/9:
Box office opens at 6:30pm, House opens at 7pm, Curtain @ 7:30pm
Matinee performance on 11/10:
Box Office opens @ 1pm; House opens @ 1:30pm; Curtain @ 2pm
A Vermont Playwrights Circle Production
Sponsored by: