Westie Coast Swing dance classes with Bridget Fischer of 802 Westie Swing
Bridget Fischer teaches Westie Swing Dance for all levels!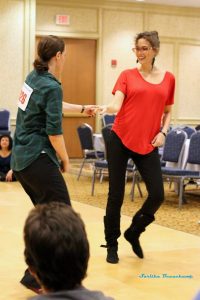 Tuesdays May 14- June 4
1 hr class   6-7pm  +  1 hr social  7-8pm
$60 for session (includes class + social)
$50 military discount
$20 for drop in (includes class + social)
$10 for 7-8pm social only
Prerequisites: Clean, soft-soled shoes or socks.
No partner necessary. Open to all.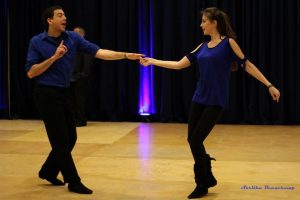 Hello dancers of the 802! This four week series will get you started on your West Coast Swing journey or serve to refresh you if you're already on one. This exciting modern style of partnered swing combines foundational swing movements and highly-personalized improvisation, all to a wide rage of danceable music. This means you can dance not only to swing music, but also to current pop and hip-hop, blues, jazz, and many styles in between. Over these four weeks, we'll cover the in's and out's of rhythm, partnership within base patterns, and how to get that cool "Westie" look with your own flair. Join us to take up a fun new challenge, meet community members, get your body moving, or expand your creative horizons. Whatever your reasons, we'll see you on the dance floor.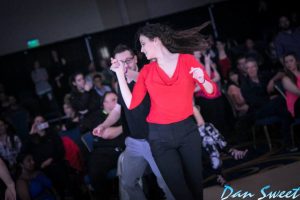 Bridget Fischer fell in love with West Coast Swing in 2010 for many reasons, ranging from its creative expression of music to the conversational and playful foundations of the dance. She began teaching in 2011 at North End Studios and later with The University of Vermont's Ballroom and Swing Society (fromally SASS). Since this start she has taught workshops with other Vermont dance groups and state colleges and currently teaches weekly dance lessons in South Burlington at Honest Yoga Center.  Bridget's background in dance and teaching includes the influence of tap, jazz, and ballet at an early age, lifelong athletics, and collegiate Ballroom dance. Bridget's love for Westie remains because of the combination of creativity, movement and social expression the dance offers. She especially enjoys the interpersonal connections made with Burlington's community members and with the global Westie community as she competes nationally at WSDC West Coast Swing events. She encourages everyone to find their own voice in this dance, goofy or serious, or something in between.